This is what you need to start a company in Norway, using our Starte-AS.no service.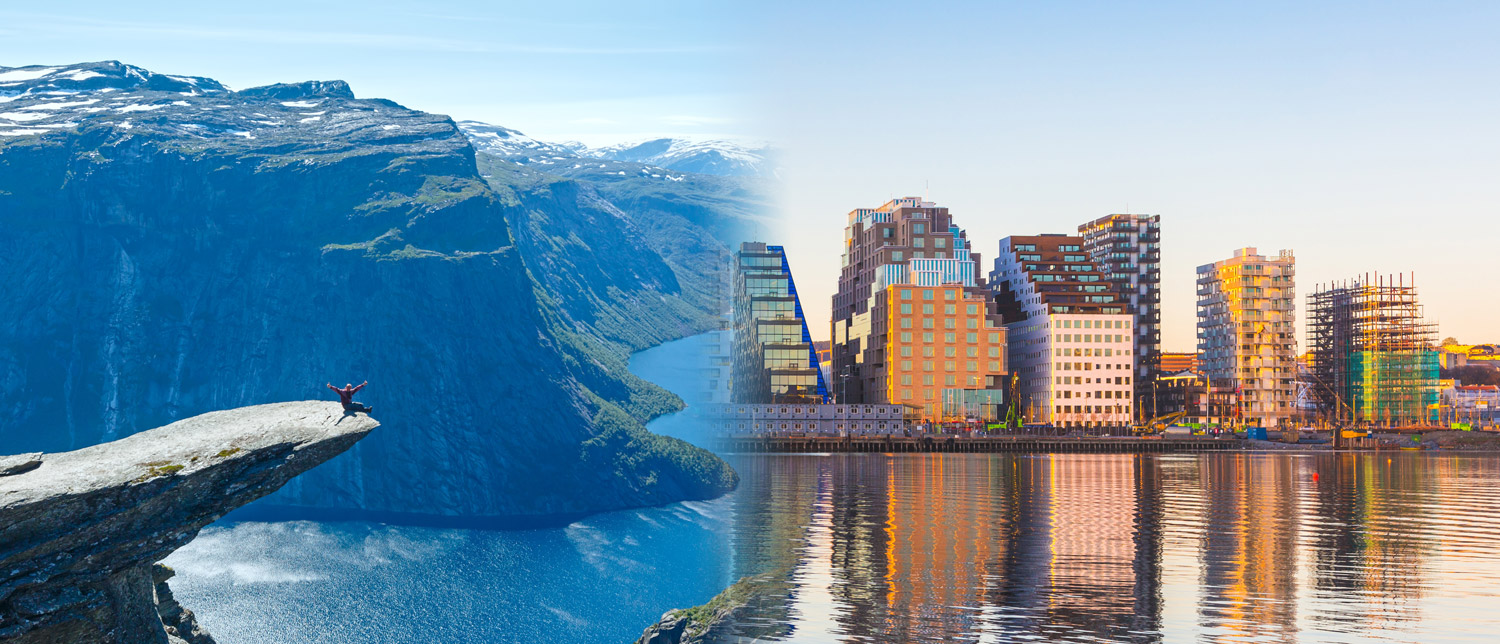 You do not need to be a resident or Norwegian citizen to establish a business in Norway. Our regulations about freedom of establishment means anyone can set up a business to sell services or goods on Norwegian territory. It is, however, required that more than half of the board of directors must be Norwegian or EEA citizens.
Before you start
The trading of certain goods or services may be regulated in a way that requires you to obtain necessary permits, and some may be banned altogether. The main exceptions are listed here, but you may want to speak to Norwegian law enforcement, an accountant, an auditor, or a lawyer before proceeding.
An "aksjeselskap" (often called AS) is the most common type of commercial company in Norway. ASes are privately owned limited liability companies, which means the individual shareholders have no personal liability for the company's obligations to creditors. An AS is an independent legal entity.
Obtaining a D-number
Anyone doing business in Norway must have a national ID-number. For foreign citizens, this comes in the form of a D-number, which is a unique, temporary national ID. This is required to hold positions on a board of directors and work in Norway. Note that posessing a D-number does not automatically grant you the right to work in Norway, nor does it grant permanent residence.
Shareholders who don't occupy any other position in the company or on its board of directors do NOT need a D-number; instead they are assigned a shareholder number when Aksjonærregisteroppgaven (RF-1086) is submitted by the company.
D-numbers are assigned from the government entity that is most relevant to the purpose of your stay in Norway. In this case, if you're starting a company here, you must submit this form to the Brønnøysund Register Centre, which is the registry containing information about all companies and organizations in Norway.
A national ID-number or a D-number is also required for tax purposes, opening bank accounts, and gaining access to national health care.
Capital requirements
The minimum required starting capital has recently been reduced to 30 000 NOK as a part of a process to simplify and lower the barrier of entry to creating a new company.
Until 2012, potential founders needed 100 000 NOK in share capital to incorporate as an AS. The capital also had to be audited. The process has now been simplified, and no longer requires an auditor.In the end, it is up to you and your co-founders to decide how much capital to inject in your new company. Keep in mind, however, that companies with a higher starting capital are proven to be more profitable over time.
Accounting requirements
As the founders of a company, you need to make the decision whether you want to hire an accountant or do the books yourself, and also whether you want to use an auditor. Businesses with a yearly revenue of less than 5 million NOK are not obligated to enlist the services of an auditor, and every company, is in essence, free to do their own accounting.
However, if you don't have experience with accounting, it can save you a lot of headache to outsource this job to professionals. Note: if you do decide to outsource your accounting, it's mandated by law that you enlist a registered public accountant – an «autorisert regnskapsfører».
You may find a list of registered accountants here.
Registered public accountants are authorized by Finanstilsynet, the Financial Supervisory Authority.
Required documentation
All changes to the the Brønnøysund Register Centre, whether it be new registrations, closures, changes to board of directors, etc, must be submitted via the form Coordinated register notification. (Samordnet Registermelding).
If this is your first time establishing a company in Norway, the number of documents required can seem daunting. Starte-AS.no takes care of the necessary paperwork.
These documents are required to start a company, and they're all included in Starte-AS.no's package. Please note that all documentation must be in Norwegian. This is, of course, taken care of by Starte-AS.no using the information you provide us with.
Minutes (a report of what was decided in a meeting) from the founding meeting
Where some details about company's operations must be established. For example: The location of the company's headquarters, for example: the chairperson of the board, board members, the number of shares, and the price per share, as well as information about whether the cost of establishing the company is to be taken from the share capital.
The minutes must be signed by all founding members.
The coordinated register notification
This contains detailed information about the company and its founders (including their names, adresses and national ID numbers/D-numbers). This form also serves as the main means of informing the government about changes to the company at a later date, for example in the case where there are changes to the composition of the board of directors.
The opening balance
The opening balance must be provided.
Also, the company's share capital doesn't have to be paid only in cash; it can also consist of physical objects, equipment, patents, copyrights, and other assets. In such cases, it is mandatory to enlist an auditor to verify the value of the non-cash objects or assets for purchases dating back more than 3 months.
Board meeting minutes
Minutes) from a board meeting where a decision must be made whether to use a certified auditor, and the name of the auditor.
The articles of association – «vedtekter»
These are internal rules that govern how the company will operate, including regulations for trading of shares. Amendments to these articles at a later date requires a majority vote of two thirds.
The shareholder register – «aksjeeierbok»
The shareholder register identifies the share owners and their stake in the company. The register must be kept updated as shares change hands over time, so that it mirrors the information in the Brønnøsund business register submitted via «Aksjonærregisteroppgaven».
Confirmation from a bank that the share capital has been paid:
The company must enclose confirmation from a Norwegian bank, that the share capital has been paid in full into the company's account. The bank will also require that whoever opens the bank account has a registered D-number.
All the required documentation is provided by Starte-AS.no. The only thing you need to do is fill out our form, and sign the documents electronically through Altinn.
Note, in order to perform this last step, a D-number is required.
The process at Starte-AS.no
Fill in the order form. Starte-AS.no provides you with the necessary documents within seconds after submitting.
Deposit the starting capital into the company's bank account. Print out the document «TilBanken.pdf», and take it to the bank. The bank will send us at Starte-AS.no a notification that the share capital has been paid into the account.
Sign electronically through the Altinn.no portal when you receive a notification to do so.
Within three business days, your company will be assigned an organization number by email, as well as a certificate of registration by regular mail from the Brønnøysund Register Center. Note that you can also print this out via Altinn.no for free, at your leisure.